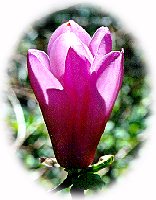 AS YOU MAY HAVE GUESSED, all the plants shown on this and the other two Designs by Notestein pages are from Jim Notestein's nursery. While the plants' beauty and quality are apparent, the photos illustrate another important consideration that isn't so obvious. These are not pampered houseplants that received a lot of TLC to keep them happy and healthy. All these plants were grown outdoors under normal conditions, so you can be confident that they're well-adapted to our local climate.

As stated earlier, Jim Notestein maintains a nursery so he can provide the highest quality native and appropriate non-native plants for his garden design clients. In other words, the nursery isn't for retail, over-the-counter sale of plants. However, if you're interested in particular plants listed below, but don't need garden design services, call Jim at (352) 372-2107 to discuss your needs and set up an appointment to come by.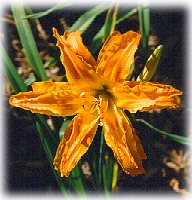 The lists below contain the varieties of plants that he grows in significant quantities.
"Notestein Specials" — plants that are hard to find, but are distinctive and well-adapted — are shown in boldface in the list below.
You'll also notice that he has extensive selections of native plants, gingers, and fruit-bearing trees and shrubs.

GROUNDCOVERS

COMMON NAME
BOTANICAL NAME
NATIVE?
Aluminum plant
Pilea cadierei
Amaryllis
Amaryllis species
Blue-eyed grass
Sisyrincium
Yes
Bromeliads (cold-hardy)
Billbergia species
Canna, hybrid
Canna, hybrid
Canna, yellow
Canna flaccida
Yes
Carpet bugleweed
Ajuga reptans
Cast-iron plant
Aspidistra elatior
Coralberry
Ardisia crenata
Crinum lily
Crinum asiaticum
Crinum, purple leaf
Crinum X amabile
Crinum, running
Crinum
Crocosmia
Crocosmia crocosmiflora
Daylily
Hemerocallis species
Elephant ear
Alocasia species
Fern, asparagus
Asparagus densiflorus 'Sprengeri'
Fern, Boston
Nephrolepis exaltata
Fern, leather-leaf
Rumohra adiantiformis
Fern, resurrection
Polypodium polypodioides
Yes
Fern, woods
Dryopteris
Yes
Ginger, blue
Dichorisandra thyrsiflora
Ginger, butterfly
Hedychium coronarium
Ginger, pine cone
Zingiber zerumbet
Ginger, red
Hedychium greenei
Impatiens
Impatiens species
Iris, African white
Dietes iridioides
Iris, African yellow
Dietes bicolor
Iris, blue flag
Iris virginica
Yes
Iris, Louisiana
Iris species
Yes
Iris, orchid walking
Neomarica longifolia
Iris, yellow flag
Iris pseudacorus
Yes
Iris, yellow walking
Trimezia martinicensis
Jasmine, Confederate
Trachelospermum jasminoides
Lily of the Nile
Agapanthus africanus
Lily, August
Lilium formosanum
Lily, blackberry
Belamcanda chinensis
Lily, glory
Gloriosa rothschildiana
Lily, rain
Zephyranthes species
Yes
Lily, St. Christopher
Crinum jagus
Liriope / lily turf
Liriope muscari 'Big Blue'
Liriope, evergreen giant
Liriope muscari 'Evergreen Giant'
Liriope, variegated
Liriope muscari 'Variegated Giant'
Liriope, webster wideleaf
Liriope muscari 'Webster Wideleaf'
Mondo grass
Ophiopogon japonicus
Mondo grass, dwarf
Ophiopogon japonicus 'Dwarf'
Orchid cactus
Epiphyllum species
Palm grass
Curculigo capitulata
Papyrus
Cyperus papyrus
Papyrus, dwarf
Cyperus isocladus
Persian shield
Strobilanthes dyeranus
Philippine violet
Barleria cristata
Sedum, star
Sedum sarmentosum
Society garlic
Tulbaghia violacea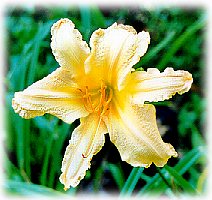 PALMS & CYCADS

COMMON NAME
BOTANICAL NAME
NATIVE?
Coontie
Zamia pumila
Yes
Palm, cabbage
Sabal palmetto
Yes
Palm, chinese fan
Livistona chinensis
Palm, European fan
Chamaerops humilis
Palm, pindo
Butia capitata
Sago palm
Cycas revoluta

SHRUBS

COMMON NAME
BOTANICAL NAME
NATIVE?
Althea/rose of Sharon
Hibiscus syriacus
Anise, yellow
Illicium parviflorum
Aucuba
Aucuba japonica
Azalea, dwarf
Rhododendron obtusum
Azalea, shrub
Rhododendron simsii
Banana shrub
Michelia fuscata
Beautyberry
Callicarpa americana
Yes
Bottlebrush
Callistemon rigidus
Boxwood, Japanese
Buxus microphylla
Boxwood, Korean
Buxus microphylla 'Wintergreen'
Bridal wreath
Spiraea cantoniensis
Camellia
Camellia japonica
Camellia (fragrant)
Camellia sasanqua
Cleyera
Cleyera japonica
Confederate rose
Hibiscus mutabilis
Coral bean/Cherokee bean
Erythrina herbacea
Yes
False cypress
Chamaecyparis obtusa
Firespike
Odontonema strictum
Fringe, Chinese
Loropetalum chinense
Gardenia
Gardenia jasminoides
Gardenia, dwarf
Gardenia jasminoides 'Radicans'
Hawthorn, pink upright
Raphiolepis hybrid 'Majestic Beauty'
Hawthorn, white Indian
Raphiolepis indica 'Alba'
Heavenly bamboo
Nandina domestica
Holly, Burford
Ilex cornuta 'Burfordii'
Holly, Chinese
Ilex cornuta 'Rotunda'
Holly, dwarf yaupon
Ilex vomitoria 'Schillings'
Yes
Holly, yaupon
Ilex vomitoria
Yes
Hydranga, oak leaf
Hydrangea quercifolia
Yes
Hydrangea
Hydrangea macrophylla
Juniper, blue Pfitzer
Juniperus chinensis 'Pfitzeriana'
Ligustrum, round-leaf
Ligustrum
Ligustrum, variegated
Ligustrum sinensis 'Variegata'
Ligustrum, wavy-leaf
Ligustrum recurvifolia
Ligustrum, wax-leaf
Ligustrum japonicum
Ligustrum, yellow-tip
Ligustrum howardii
Mahonia, grape holly
Mahonia fortunei
Mahonia, leatherleaf
Mahonia bealei
Pittosporum, green
Pittosporum tobira
Pittosporum, variegated
Pittosporum tobira 'Variegata'
Red-tip photinia
Photinia X fraseri
Silverthorn, variegated
Elaeagnus hybrid 'Ebbingei'
Tea olive
Osmanthus fragrans
Viburnum
Viburnum tinus
Viburnum, sandankwa
Viburnum suspensum
Viburnum, sweet
Viburnum odoratissimum
Viburnum, Walter's
Viburnum obovatum
Yes
Wax myrtle
Myrica cerifera
Yes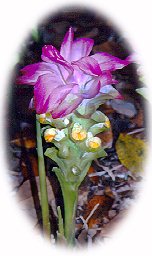 TREES

COMMON NAME
BOTANICAL NAME
NATIVE?
Ash, green
Fraxinus pennsylvanica
Yes
Bamboo, black
Phyllostachys nigra
Bamboo, hedge
Bambusa glaucescens
Banana, edible
Musa paradisica 'Mysore'
Bay, red
Persea borbonia
Yes
Birch, river
Betula nigra
Yes
Cedar, southern red
Juniperus silicicola
Yes
Cherry, black
Prunus serotina
Yes
China fir
Cunninghamia lanceolata
Crepe myrtle
Lagerstroemia indica
Cypress, bald
Taxodium distichum
Yes
Cypress, Leyland
Cupressocyparis leylandii
Dogwood, flowering
Cornus florida
Yes
Dogwood, pagoda
Cornus alternifolia
Yes
Elm, Drake
Ulmus parvifolia
Elm, winged
Ulmus alata
Yes
Fig, brown turkey
Ficus carica 'Brown Turkey
Fringe tree
Chionanthus virginicus
Yes
Hackberry
Celtis laevigata
Yes
Hickory, pignut
Carya glabra
Yes
Hickory, scrub
Carya floridana
Yes
Hickory, water
Carya aquatica
Yes
Holly, American
Ilex opaca
Yes
Holly, American x Dahoon
Ilex hybrid
Yes
Holly, Dahoon
Ilex cassine
Yes
Holly, Palatka
Ilex attenuata 'East Palatka'
Yes
Holly, Savannah
Ilex attenuata 'Savannah'
Yes
Laurel, cherry
Prunus caroliniana
Yes
Loquat
Eribotrya japonica
Magnolia, Japanese
Magnolia X soulangiana
Magnolia, southern
Magnolia grandifolia
Yes
Maple, red
Acer rubrum
Yes
Oak, laurel
Quercus laurifolia
Yes
Oak, live
Quercus virginiana
Yes
Oak, southern red
Quercus shumardii
Yes
Pine, longleaf
Pinus palustrus
Yes
Plum, Chickasaw
Prunus augustifoia
Yes
Redbud
Cercis canadensis
Yes
Sweetgum, American
Liquidamber styraciflua
Yes
Sweetgum, Formosan
Liquidamber formosana
Sycamore / plane tree
Platanus occidentalis
Yes
Tulip poplar
Liriodendron tulipifera
Yes
Tung
Aleurites fordii
Willow, weeping
Salix babylonica
Wisteria
Wisteria sinensis
Yew, Japanese
Podocarpus macrophyllus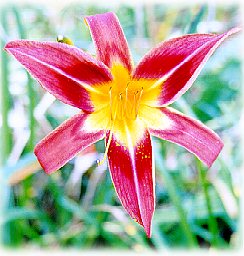 Photographs on this page, from the top:
Japanese magnolia (Magnolia X soulangiana);
polyploid daylily (Hemerocallis hybrid);
ruffled daylily (Hemerocallis hybrid);
spirea (Spirea thunbergii);
hidden ginger (Curcuma petiolata); and
maroon daylily (Hemerocallis hybrid).