Commemorative Bricks for
Summer House
At Kanapaha Botanical Gardens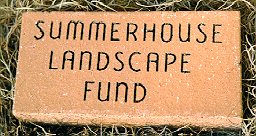 THIS IS YOUR PERSONAL INVITATION
to
MAKE A GOOD IMPRESSION
ON THE PATHWAY OF SUMMER HOUSE



In 1774 the noteworthy botanist, William Bartram, walked this land of Kanapaha Botanical Gardens. The historical marker of his visit can be seen at the northeast corner of the Gardens. His remarkable commentaries on the great natural beauty in our region inspired all who read about the picturesque diversity of what was then the "New World." Now, it's your turn to inspire.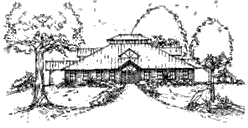 Summer House is the name of the new Environmental Education and Resource Center that will be built at Kanapaha Botanical Gardens, just outside Gainesville, FL. It will not only serve as the new visitors' reception building, but will also house a library, exhibit hall, meeting room, offices, gift shop, snack shop, kitchen and social hall. In addition, it will demonstrate sustainable design principles for North Central Florida. Ground was broken in April, 1999 and construction is now under way.

The landscape around Summer House will showcase a wonderful diversity of native plants suitable for this region: understory trees, ornamental shrubs, flowers of many kinds, groundcovers, and all sorts of botanical delights found naturally in North Central Florida. Landscaping will follow construction.

Here's where you come in: A generous and meandering hard-surface path will allow visitors at Summer House to explore the attractive demonstration of year-round beauty and nature-friendly landscape techniques that are a foundation of sustainable design principles.

This interpretive path will include commemorative bricks engraved with the names of individuals and organizations who have contributed to the KANAPAHA BUILDING FUND.

Your commemorative bricks on the new path of Summer House will speak to future visitors about your generous support to help implement this wonderful environmental showplace. Express your generosity in the amount of $100 per brick — as many bricks as you please. You may, of course, reproduce this invitation form so that others may share your opportunity.

You are cordially invited to enter your pledge on the registration form you can print and mail in. Please print clearly. Mail this form with your check. Make your check to: KANAPAHA BUILDING FUND. On the memo of your check, print the word: BRICK. Thank you very much. See you on the path.

The Summer House Project is a collaboration by the North Florida Botanical Society, the Sustainable Development and Construction Initiative, Inc., the University of Florida's Center for Construction and Environment, the Alachua County Government, and many members of the local community. You can work with us.

---
Questions or comments about anything on this page?
Then don't beat around the bush —
leaf us a message.

Copyright © 1998 by Southern Gardening